Planning an on-campus event? 
Contact Theo Chatneuf to discuss audio-visual and logistical needs: 707-524-1882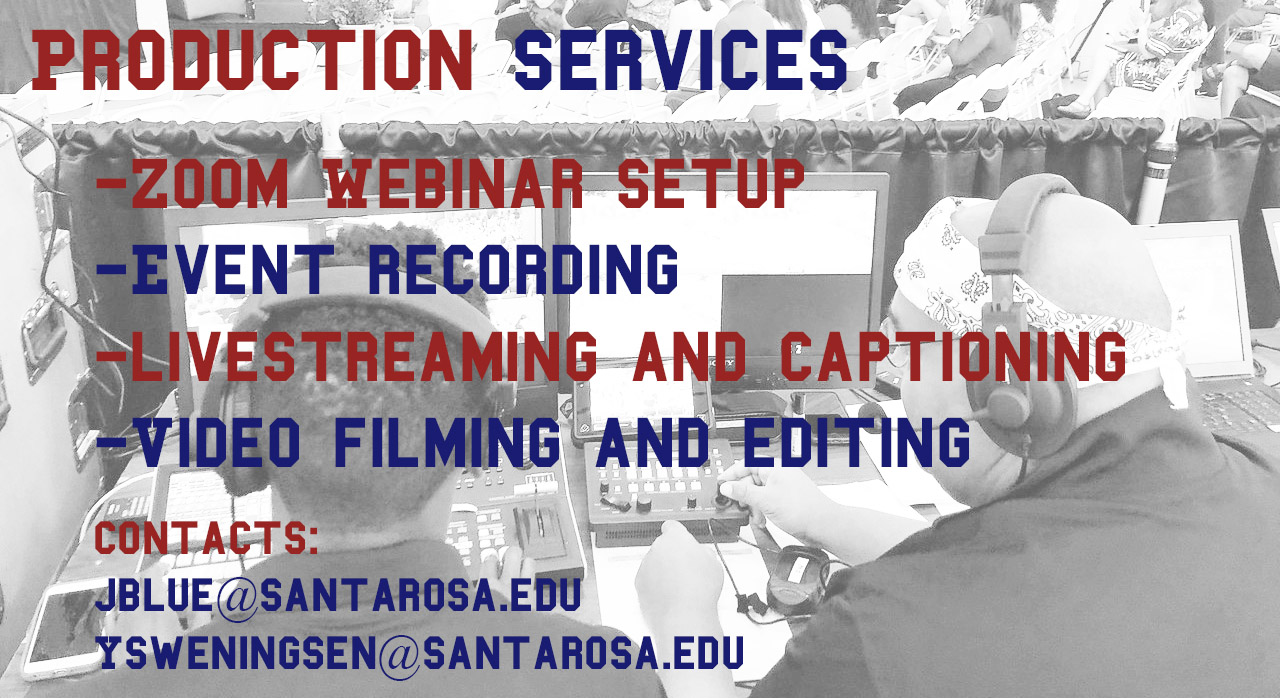 Production Services is an in-house support unit established to assist Media Services video capture, editing, and hosting of locally-produced content. Services range from the capture of lectures and presentations to the development of studio productions. In addition, a variety of photographic services are provided to enhance class presentations and special events.
Webinars restrict audio, video and chat functions for attendees; provide a platform for panelists to present to large audiences with optional features including a managed Q&A experience, registration, attendee view layouts and more. (Note: breakout rooms are not available in webinars.)
---
Hosting Your Videos
For training & instructional videos, we recommend using 3CMedia, a free resource available to everyone in the CCC system; it is like a private YouTube with educational resources like grant-funded DECT captioning available. You may sign up for your own account and our support team can assist with training as needed for a do-it-yourself approach.
For marketing/promotional videos, the District's official YouTube channel can be used for community outreach.
In Santa Rosa, the Media Production Techs (Yarrow Sweningsen, James Blue, and Sipho Mahlaku) have access to upload videos to SRJC's YouTube channel, once the requested content is approved by PR and/or Media.
Requests are prioritized via queued tickets in ServiceDeskPlus. Note that anything posted publicly on this official YouTube channel must be accessible (closed captioned at $1.25/min), which we can facilitate.  Depending upon the language(s), subtitles can be ordered as well; our team typically processes these tasks thru REV.com ($3-7/min).
---
SRJC Livestream
Many events on SRJC's campuses are available for remote participation live or on-demand via our livestream website. 
---
Event Support Services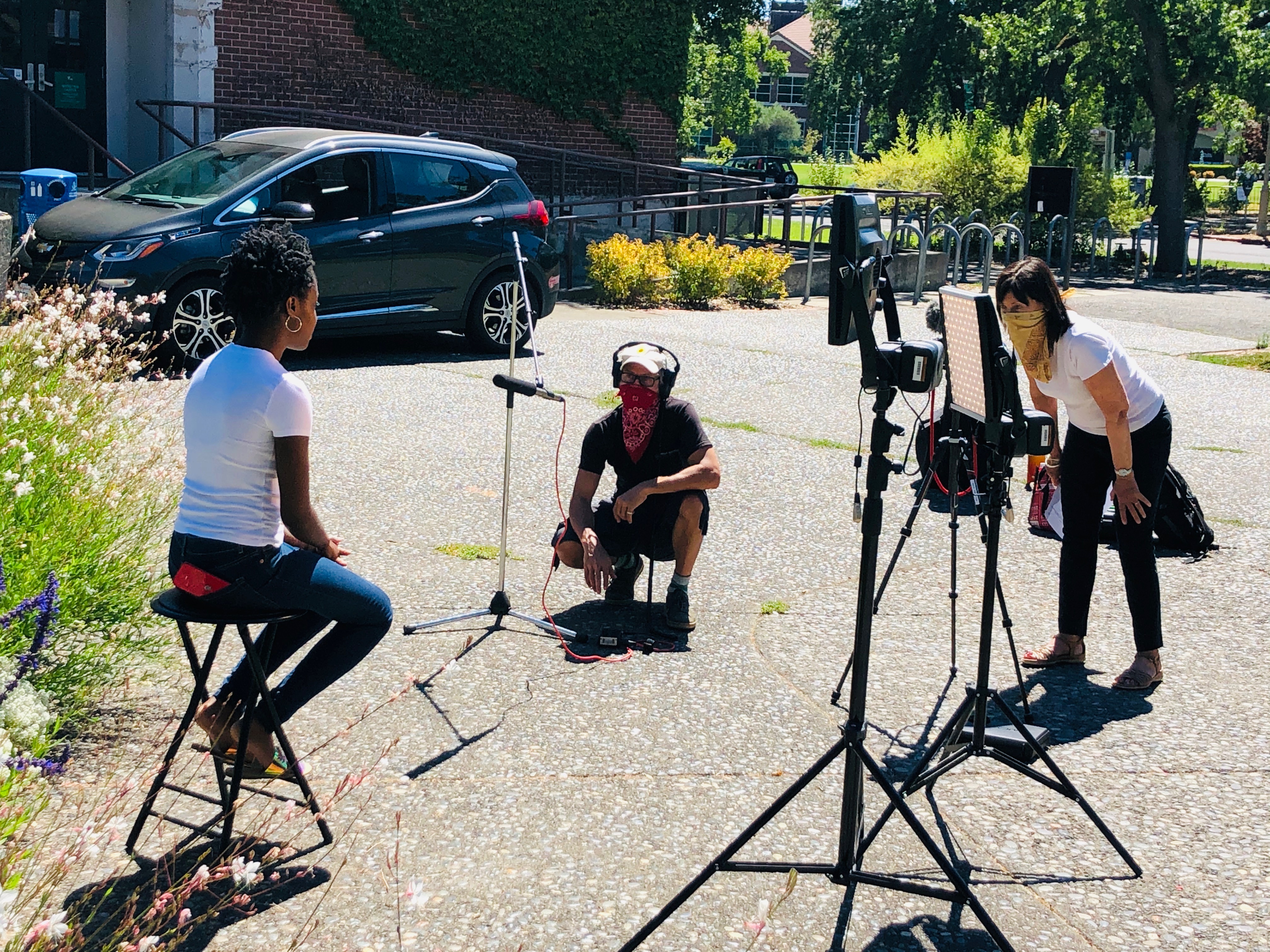 Due to the varying needs for lecture and event recordings, we offer several tiers of support with scalable costs incurred. For events without special editing needs or funding sources, a simple Zoom recording or self-supported videotaping is encouraged via tier one with minimal cost.  Please keep in mind that your event needs may not fall neatly into the chart below; please email media@santarosa.edu to discuss which tier would suit you best.
Contact our Media Events & Production Coordinator Theo Chatneuf at 707-524-1882 or tchatneuf@santarosa.edu to discuss options for AV gear and staffing.
| Tier | Length of Event Capture | Packages/Tech Presence | Post-Production | Per Unit Cost |
| --- | --- | --- | --- | --- |
| 1 | Varies | None. Self-recorded. Checkout camera or create Zoom capture. | N/A.  Media can help with upload as needed. | Free |
| 2 | Up to 2 hours | Simple recording with assigned videographer. Scheduled 2 weeks in advance. | Minimal post-production.  Basic upload to 3CMedia or YouTube. | Starting at $150 / session |
| 3 | Up to 4 hours | Extended length or multi-camera capture, event livestreaming, with assigned videographer(s) and producer. | Production team edits as needed and uploads/distributes final product. | Starting at $250 / session (may incur added tech costs) |
| 4 | Varies for Project-based work | Multi-camera, storyboarding, field-shooting, voiceover, post-produced assets. | Detailed post-production with hourly editing by assigned STNC; requires pre-production meetings, storyboarding and project timelines. | Typically $500 - $2500 per project |
Note: During remote instruction, some of the procedures below may be unavailable.
FREE!   Tier 1 – DIY – checkout camera and self-record (no cost)
Customer can self-upload to 3CMedia or work w/ Media desk (x4261) to get it uploaded. 
Equipment checkouts in Santa Rosa are located on Doyle Library 2nd floor (Tech Gear Desk w/ Kat Dietrich) or via the IT Equipment Loan Page
Zoom cloud recordings upon request- contact media@santarosa.edu (x1614) to schedule a tutorial.
SILVER.  Tier 2 – Basic lecture capture or event recording w/ assigned videographer (starting at $150 per session)
GOLD.  Tier 3 – Advanced event recording w/ livestream, multi-camera or specialty post-prod (starting at $250 per session)
requested in EMS or via media@santarosa.edu; up to 4 hours, possible differing locations
requires additional personnel for camera switching or maintaining livestream
additional costs will be incurred for extra production personnel depending upon needs
after event, footage may get some post-prod. and then upload to 3CMedia or YouTube. 
PLATINUM.  Tier 4 – PROJECT-based work w/ hourly rates (typically $500 - $2500 per project)
Can be requested of Media Services in ServiceDeskPlus (rather than EMS, as this is not typically event-based.)
special video projects – usually involves storyboarding and multiple development phases
custom quotes based on total labor, complexity of project, etc. 
production STNC or tech assigned for duration of the product.  May include field shoots & extensive post-production, imported assets, specialty graphics, etc. 
once funding source is confirmed, pre-production meeting required to develop scope and timelines 
CAPTIONING
Closed and/or live captioning is NOT included in any of the above tiers as Media Services and SRJC do not offer any captioning services in-house. Most events can be captioned after the fact via a third-party website for the cost of $1.25 per minute, or live captioned at approximately double that cost. Any recordings used in class for academic purposes should be captioned to adhere to ADA regulations. Please contact Media Librarian Katrina Smith (x7927) with questions regarding what may or may not require captioning. Please mention your desire for captioning during the initial contact with Media Services to ensure accurate price reflection.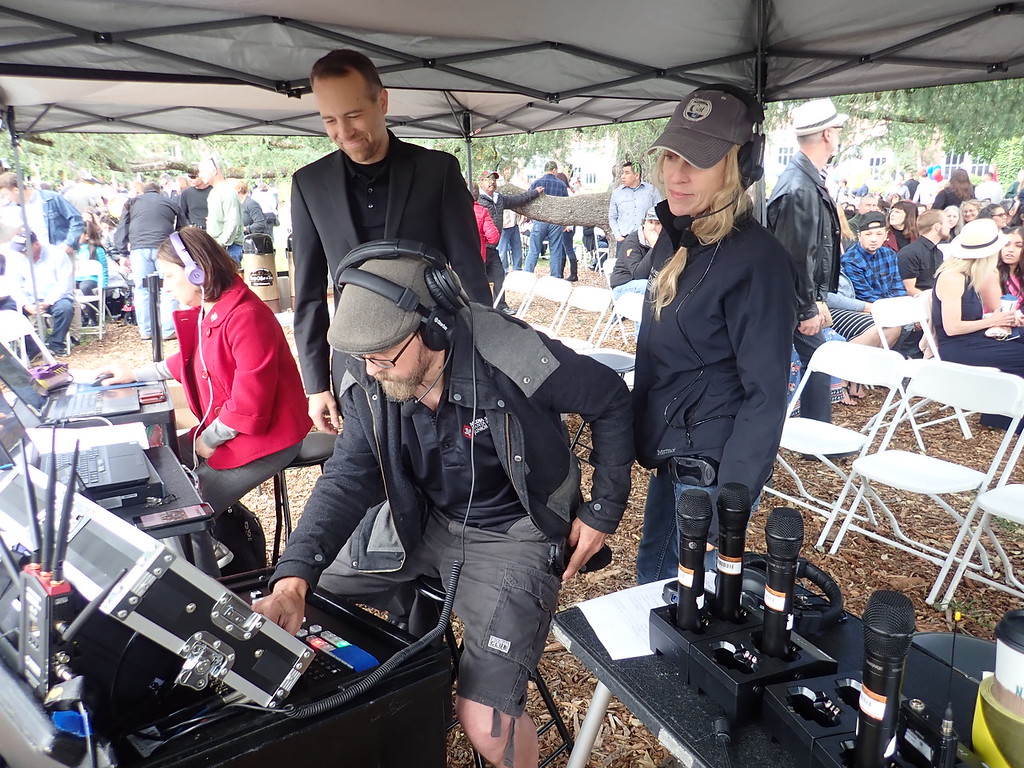 ---
AUDIO & VIDEO PRODUCTION CONSULTATIONS
Media Services also provides AV production support and video clip generation for locally-produced content. To start a new project, or to request a status update, please contact Yarrow Sweningsen for logistics at 527-4557 or email media@santarosa.edu.
---
PHOTO & PRESENTATION CONSULTATIONS
Media Services offers limited curriculum support for faculty through the use of graphics. Original media materials used to enhance a concept for class can be produced in a timely manner. The material is produced by professional staff who will work closely with the presenter to determine the best method of presentation. To review project options, please contact James Blue at 527-4558 or jblue@santarosa.edu.
For service in Petaluma, please contact Jo Ann Gaglione at 778-4167 or jgaglione@santarosa.edu.
---
Talent Release
A talent release form is a legal permission slip allowing the use photographs or audio/video recordings of people for campus-related projects. The release forms are now available on the SRJC Public Relations site. Once completed and signed, release forms should be turned into PR.